Divorce Books
Listed below are several divorce books that you might find useful or you can go directly to divorce books at Amazon
or divorce workbooks
.
---
Divorce and Money: How to Make the Best Financial Decisions During Divorce (4th Edition) by Violet Woodhouse, Victoria F. Collins, M. C. Blakeman and Robin Leonard
While divorce is rarely a simple affair, you can make splitting up less hazardous to your financial health. Give yourself a head start with Divorce & Money, the practical guide to evaluating and dividing assets during divorce.
Divorce & Money explains how to determine the real value of marital property — such as houses, businesses, retirement plans and investments — and how to negotiate a settlement. Step-by-step, the book shows you how to:
decide whether to keep or sell the house
protect yourself against misuse of joint accounts and credit cards
avoid tax problems
handle alimony and child support
divide debts
reduce risks to your investments
avoid hasty decisions that could hurt you financially
understand how a court evaluates assets and what they are really worth
gain financial stability as a single person

More Information
---
What About the Kids? Raising Your Children Before, During, and After Divorce by Judith S. Wallerstein and Sandra Blakeslee
In the tradition of the best parenting guidebooks comes a new work by renowned child psychologist Judith S. Wallerstein on a subject that vexes millions of American moms and dads: how can you genuinely protect your children during and after divorce? Wallerstein answers this important question with knowledge gathered from thirty years of in-depth interviews with children of divorce and their parents. You'll learn what you should say and do for children at each age and stage of development. You'll discover the many ways that divorce will change your family in the years ahead. You'll understand the challenges of how to be an effective parent outside of marriage, how to choose the custody plan that is best for your child, what you need to know to create a healthy remarriage, and what to say to your children when they reach adulthood. Divorce is not a single event but a lifelong trajectory of changed circumstances that demand a different kind of parenting than we have ever known.
With compassion and wisdom, Wallerstein shows how to create a new kind of family. Her experience has educated her in the ways that work, and in the ways that don't. For the first time, she shares her deep understanding of raising children after divorce, and how you and they can make use of the second chance that divorce can provide.
From the Introduction:
If your are successful in meeting the three challenges of divorce, I believe you can open up new opportunities in you life and put the disappointments of your marriage behind you, once and for all. Because these challenges last many years, this book is a guide for parents who are thinking about divorce, who are in the process of getting a divorce, or who split up a few or even many years ago and are deeply concerned about how their children are going in the post-divorce family. It describes the changes that you will experience in those first few days, weeks, and months after the decision is made and what you can do to take control and stay in control of your life. I can tell you exactly what to say to your children, and how to choose the right kind of custody for your children, and how to help each child settle into his or her new schedule without tears. Most of all, I can show you the changes that lie ahead once the dust settles. The turning points are numerous, the danger points are unexpected, but so are the opportunities. I will be your guide.

---
Divorce For Dummies by John Ventura and Mary Reed
Are you wondering how to serve divorce papers? Afraid you'll have to sell your house just to cover legal costs? Heading for trial? Let this friendly guide take some of the grief out of your ordeal. Filled with sound, practical advice, it shows you how you can work out the terms of your divorce agreement without losing your shirt — or your mind!
Discover how to:
Assess whether you're ready for divorce
Understand your legal rights
Cut costs by negotiating terms yourself
Work with an attorney
Avoid going to trial
Help your kids get through it

---
Divorce Yourself: The National No-Fault Divorce Kit with Forms-on-CD by Daniel Sitarz and Dan Sitarz
A book guide to divorce, offering instructions in plain English, questionnaires, checklists, and sample documents, designed to be used by consumers without the need for an attorney. Covers aspects including division of property, child custody and support, and appearing in court, and provides a sample marital settlement agreement, an appendix on divorce laws in all states, and a glossary.

---
Your Right to Child Custody, Visitation and Support (Legal Survival Guides) by Mary L. Boland
This new edition includes such current topics as parental kidnapping and child support enforcement. Most parents think that once a decree for support has been ordered, all is over. However, oftentimes that is just the beginning. Getting the support that was mandated, in the amount that was stated, in the manner that was determined necessary and in the time indicated are often major issues that must be continually confronted for the good of the children.
The inclusion of an expanded glossary of terms, plus easy-to-use, blank, tear-out forms makes this new edition a must for every person who has children and has gone through a divorce or for those who are contemplating a divorce.

---
Fathers Rights: Hard-Hitting & Fair Advice for Every Father Involved in a Custody Dispute by Jeffery M. Leving, Kenneth A. Dachman, Jeffrey Leving, Jeffery M. Leving
Jeffery Leving has spent more than a decade in the trenches of domestic law. From that perspective, he gives men embroiled in custody disputes a powerful and impassioned voice in Fathers Rights. Arguing that men are disenfranchised and stigmatized by a biased legal system, Leving promises help through such difficulties as finding empathetic attorneys, avoiding unhealthy custody arrangements, protecting the child-parent relationship, and remaining financially solvent. Included is advice on how to demonstrate parental competence when falsely accused of abuse.
Writing with passion for the plight of an under-represented population in the domestic drama, Fathers' Rights offers sound, step-by-step council and a road map through the complex terrain of family law. "Too often a dangerous free-fall ensues," Leving writes, speaking of divorce's aftermath. "At every step in the divorce process, the legal system deepens marital wounds, serving up revenge and recrimination much more often than it dispenses compassion and justice." It is Leving's mission to right the wrongs caused by divorce court.

---
Child Custody: Building Parenting Agreements That Work (Child Custody, 3rd Ed) by Mimi E. Lyster, Spencer Sherman and Martin Stein
Working out a fair and realistic custody agreement is one of the most difficult tasks for parents going through a divorce or separation. Child Custody is the only book to show separating or divorcing parents how to overcome obstacles and build their own win-win custody agreements.
A professional mediator, author Mimi Lyster sets out 40 issues separating parents typically face, and presents all the options to resolving them.
Child Custody walks you through all the factors you must consider, including:
medical care
education
religious training
living arrangements
holidays
money issues
dealing with changes in an existing agreement
Child Custody includes checklists and worksheets to make it easy to put together a comprehensive agreement. It also covers custody law in all 50 states and includes fill-in-the-blank custody agreement.
The updated 4th edition is completely reorganized — making a parenting agreement is even easier with step-by-step instructions and easy-to-understand information

---
Joint Custody With a Jerk: Raising a Child With an Uncooperative Ex by Julia A. Ross, Judy Corcoran (Contributor), Julie A. Ross, Ross Corcoran
Parenting is difficult enough in a family where the two parents love and respect each other. In divorce, where the respect has diminished and the love has often turned into intense dislike, co-parenting cane drive on or both parents to the brink of insanity. Joint Custody with a Jerk offers many proven communication techniques that will help you deal with your difficult ex-husband or ex-wife by describing examples of common problems and teaching you to examine your role in these sticky situations. These strategies for effective mediation are easy to apply, down-to-earth, and innovative.

---
Find Your Way Through Divorce by Jill Curtis
Most volumes on divorce are written by lawyers with an emphasis on the legal problems involve, but for couples splitting up it is the emotional struggle which is uppermost. There are ways you can deal with the break-up of a mrriage which should lessen the trauma of divorce. This book aims to put you on the right path.

---
I Want a Divorce?: A Unique Approach to the Emotional and Legal Implications of Marital Crisis by Simone Katzenberg
Aiming to link the emotional and legal aspects of divorce without becoming weighed down by either psychological or legal jargon, this book begins with an analysis of the divorce process in seven stages: breakdown, shock, anger, pain, hatred, grief and acceptance. It then describes the legal process and how to negotiate it: solicitors, costs, first moves, finances, housing, types of orders, mediation, procedures and courts. Case studies are presented to illustrate particular experiences common to many marriage crises, and a list of relevant addresses and telephone numbers is provided.

---
The Break-up Survival Kit: Emotional Rescue for the Newly Single by Pam Spurr
Marital and relationship breakdown is rife, with 40 percent of all marriages ending in divorce. The emotional fall-out from the trauma of a break-up is incalculable. Most will experience draining emotional negativity: for example, they worry no one else will ever want them; or they can not let go of the their ex and live for the day when he or she realises that it is all a big mistake and comes back. Sometimes they seek revenge and damage themselves more than the person they hope to hurt. Others will sink into a general malaise where all pleasure is lost. Here popular London-based radio relationship counsellor Dr. Pam Spurr offers a emotional rescue to help those struggling through a break-up throw off excess negative energy through positive living. Packed with tips and advice plus practical assistance in the form of questionnaires, checklists, dilemmas and strategies, the Break-up Survival Kit tackles the problems of moving on, and offers new directions to allow the broken-hearted to rebuild their lives and act positively.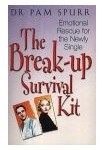 ---
Helping Children Cope With Divorce by Rosemary Wells
Consumer text offers advice on practical and emotional problems stemming from divorce. Discusses the legal terms, coping with residence orders, giving children the room to talk and have a say in major decisions, the possibility of step-parents, and who to contact for further help.

---
Moving on: Breaking Up Without Breaking Down by Suzie Hayman
This is a guide that provides information, advice and practical strategies to help you cope with the stress of breaking up with a partner. Learn how to manage negative feelings, help children through a breakup, communicate with your partner and children throughout, and sort out financial issues.

---
Relate: Starting Again: How to Learn from the Past for a Better Future by Sarah Litvinoff
A guide to looking to a positive future after the grief of a failed relationship. Through self-assessment questionnaires, tasks and discussion points, the author helps the reader to reach a greater understanding of him- or herself and to build a new social life.

---
101 Uses For an Ex-Husband by Richard Smith
Clever cartoons and scathingly funny commentary offer comfort to readers going through a divorce, providing helpful suggestions on how to put a former spouse to good use, from stopping up a landfill to making a crash dummy. Original.

---
Children do not divorce by Rosemary Stones
Originally published in 1991, a sensitively written story which looks at separation and divorce as seen from the viewpoint of a child, allowing children to explore and express their feelings. One book in the Talking It Through series, illustrated in full colour by Nicola Spoor.

---
The Fresh Start Divorce Recovery Workbook : A step-by-step program for those who are divorced or separated by Bob Burns
Based on personal experiences of the authors as well as the experiences of thousands who have benefited from the acclaimed Fresh Start Seminars, this book is a total recovery program for anyone who faces a divorce or separation.

---
Divorce Workbook: Guide for Kids and Families by Sally B. Ives, Ph.D., David Fassler, M.D. and Michelle Lash, M.Ed., A.T.R
Told through drawings and letters of children, this immensely useful guidebook covers every aspect of divorce, from legal issues such as child support and visitation to emotional repercussions like stomach aches and self-blame.
"The volume takes children by the hand from marriage through separation, divorce and legal stuff which defines such terms as custody, child support, divorce mediation, and visitation. It devotes considerable attention to the emotional aftermath of divorce. Compiled with sensitivity and useful for its guidance."
— Nadine Brozan
New York Times

More Information
---
Kids Divorce Workbook : A Practical Guide That Helps Kids Understand Divorce Happens to the Nicest Kids (revised) by Michael S. Prokop
---
The Great Divorce by C. S. Lewis
C. S. Lewis takes us on a profound journey through both heaven and hell in this engaging allegorical tale. Using his extraordinary descriptive powers, Lewis introduces us to supernatural beings who will change the way we think about good and evil.
---
The Anatomy of An Affair by Dr. Reena Sommer
This is an excellent and authoritative book by Dr. Reena Sommer, Ph.D., an internationally recognized divorce consultant who has been featured on CTV National News and has recently served as a consultant to the Rick Sanchez Show. The Anatomy of An Affair offers advice to help you decide, in the face of infidelity, whether you should try to save your relationship or simply put an end to it. The book categorizes affairs into five distinct types and discusses the thesis that affairs are not so much about sex, as about other issues in the relationship.
Although we hope you never find yourself in such a position, if you think you are facing a situation where your partner has been unfaithful, this book is definitely a "must-read".
More Information